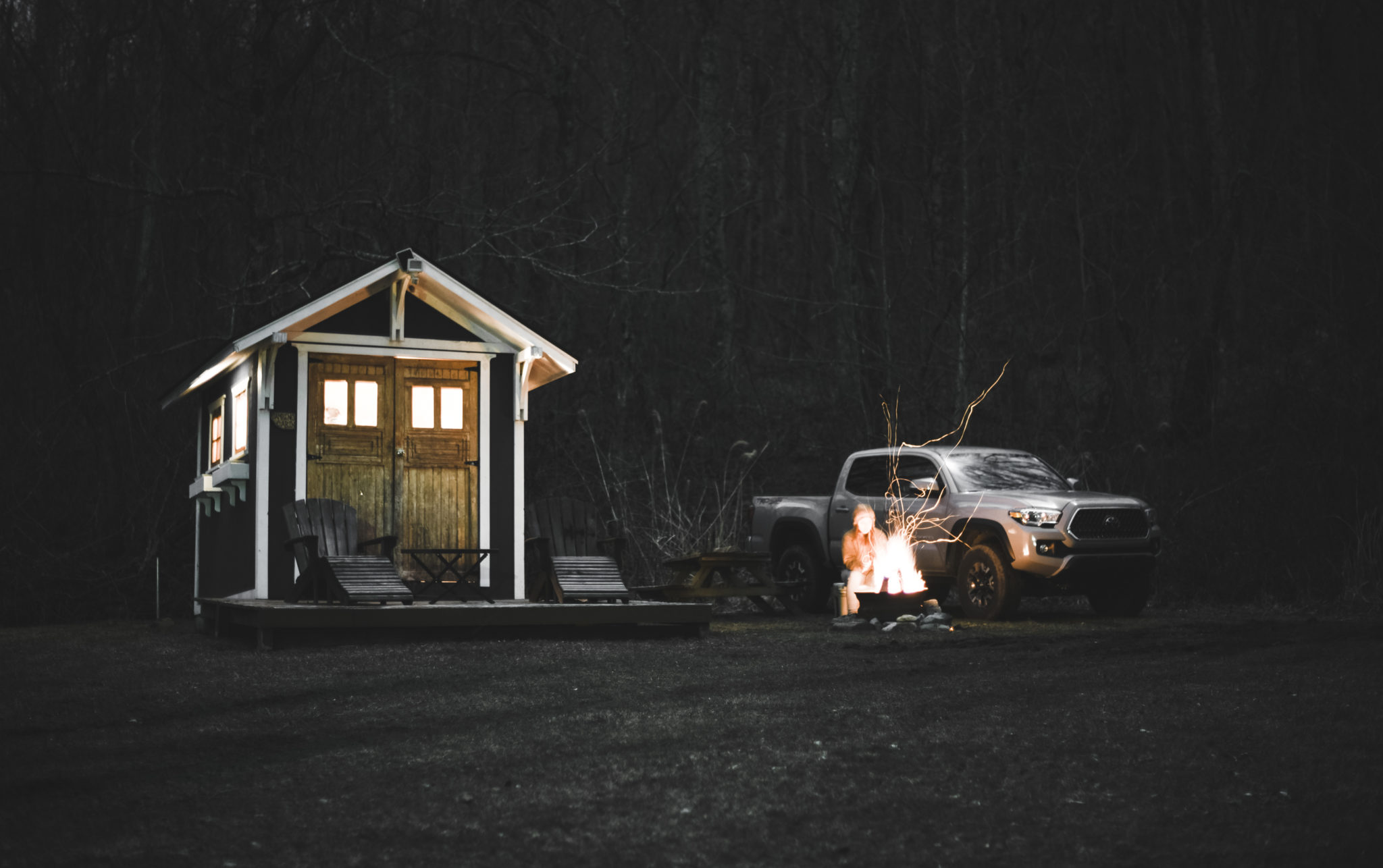 Reconnect. All relationships need a continual reconnection. There are so many distractions, demands for our attention, and focus on developing all areas of our lives that sometimes we sacrifice what is most important to us without ever realizing it. We sure do and we are learning that for our marriage. More often than we think and more needed than we realize.
Heather and I spent 3 nights and 2 days traveling around the Blue Ridge Province of Western North Carolina. We have had a lot of folks reach out wanting information so the following images and information are to help bring insight for those that would like to do the same. We want to empower others to heed their own adventure. Links will be provided below.
The location in which we dwelled for sleeping was in a rad little tiny home in the mountains just Southwest of Newland, North Carolina. We stayed at Buck Hill Campground where they have several options for tiny house lodging.
Day 1:
Slept in until about noon. Went roaming throughout Roan Mountain. Beautiful views and there are trails right off the road all throughout the road travel. We stopped by the Dollar General and picked up some Campbell soup for supper. Yes, a romantic supper can even unfold with Campbell soup.
Day 2:
Woke up about 5:30 am. At the campground, they have community bathrooms with running water and showers. Got cleaned up and dressed for the days adventure.
Anywhere we go, coffee is always a priority for us. We carried with us an aeropress and a Bonavita 1 liter electric kettle.
After morning coffee and personal quiet time, we traveled into Asheville which was about an hour Southwest of our location.
Went to High Five Coffee Bar and chatted with a local. I drank more coffee. Found out to always check during the winter months for closings on the Blue Ridge Parkway.
Went to Antique Tobacco Barn. We could have spent all day there. You will be blown away with all the items and nostalgia they have there. Be ready to drop some big money. With that being said, you get what you pay for.
We then went to Wicked Weed Brewing Pub for Lunch. Heather had their normal Cheeseburger and I had their Buffalo burger. We both had sweet potato fries which were so solid.
Went to Diamond Brand Outdoors which is an outdoor retailer in Asheville. We always make it a priority to visit the local outdoor retailer in town. We purchased a few closeout items that they had for Arcteryx and Kelty; a pullover and a blanket. Also, visiting the local outdoor retailer allows for a lot of information to be obtained. Ask them questions about the best places to go, trails, etc.
We then went down to the French Broad River District AKA West Asheville AKA Arts District. In Asheville, there is incredible art everywhere you go that includes graffiti, murals, paintings, etc. Go check out the " Good Vibes " Silo which is now the " Stay Weird " Silo. If you google best places to take selfies in Asheville, some pretty rad locations will pop up.
We then traveled South to Triple Falls Trail located in Dupont State Forest. It is a trail with a series of waterfalls that are beautiful on the Little River. This river can be fished with plenty of wading access. I did not have my gear with me, but we will be going back.
Traveled Northwest to Black Bolsom Knob to gain some elevation and hike to get some views. To get there we drove through Pisgah National Forest onto Blue Ridge Parkway. Beautiful drive and scenery.
We drove about 2 hours North East to get back to our Tiny Home in Newland. We stopped in Asheville and ate at Asheville Brewing Co. Solid Pizza and good brews.
That night, we made a fire for pictures and to spend time around. The fire pit is provided at the tiny house location and aged, dried wood can be purchased from the campground owner for very little cost.
DAY 3:
We woke up, made some coffee, loaded up the Tacoma, and headed back towards West Tennessee.
LINKS:
Lodging:
https://glampinghub.com/unitedstatesofamerica/southeast/northcarolina/newland/cozy-cabin-getaway-rental-asheville/?checkin=&checkout=&guests=2
https://www.buckhillrvcampground.com
Food / Coffee:
https://www.wickedweedbrewing.com
https://www.ashevillebrewing.com
More information, visit:
https://www.exploreasheville.com
Featured Gear & Product:
Toyota Tacoma TRD Off Road, Yeti Coolers, Mtn Ops, Danner Boots, Aero Press, Sitka Gear, Arcteryx, Patagonia, Kelty, Smartwool, and Benchmade Knives.
Have more questions? Please reach out to me.
Live slowly folks.
– The Daily Dortches