Rough Country and overlanding. A brand most know about, and an off-roading activity of exploration that many folks love to do. Put the two together, and a lot of stoke is brought into the conversation. It gets me stoked, and for many of you, I know it does you too. Rough Country Research & Development reached out to my wife, Heather, and I this past year about our 2013 Subaru Crosstrek and 2019 Toyota Tacoma TRD-Off Road for marketing efforts and collaboration. An absolute honor to be the ones sought out and considered for this. I can recall on specific moments as a child dreaming and envisioning my truck one day with a Rough Country Suspension Lift on it. To have the opportunity to not just have that come true, but to have the opportunity to be collaborating and working with them on such a connective and relational basis is epic and humbling.
Rough Country is an industry leading brand in the off-road performance space that is known worldwide as being one of the best creators and manufacturers of  performance shocks and suspensions lifts, but has evolved into so much more. You may be reading this and very well have a Rough Country product modified on your vehicle outside. If you do, you already know what I am talking about when it comes to the quality and performance of what they make, and the trust in not just their product, their entire brand. Their entire operation is based in Dyersburg, Tennessee.
Overlanding is an off-roading activity with travels to a specific destination where the journey is the sole focus of the experience. This outdoor recreational activity has unfolded into a  massive and creative industry in itself from the vehicles manufactured, performance parts that are made, and the off-road destinations that have become globally known.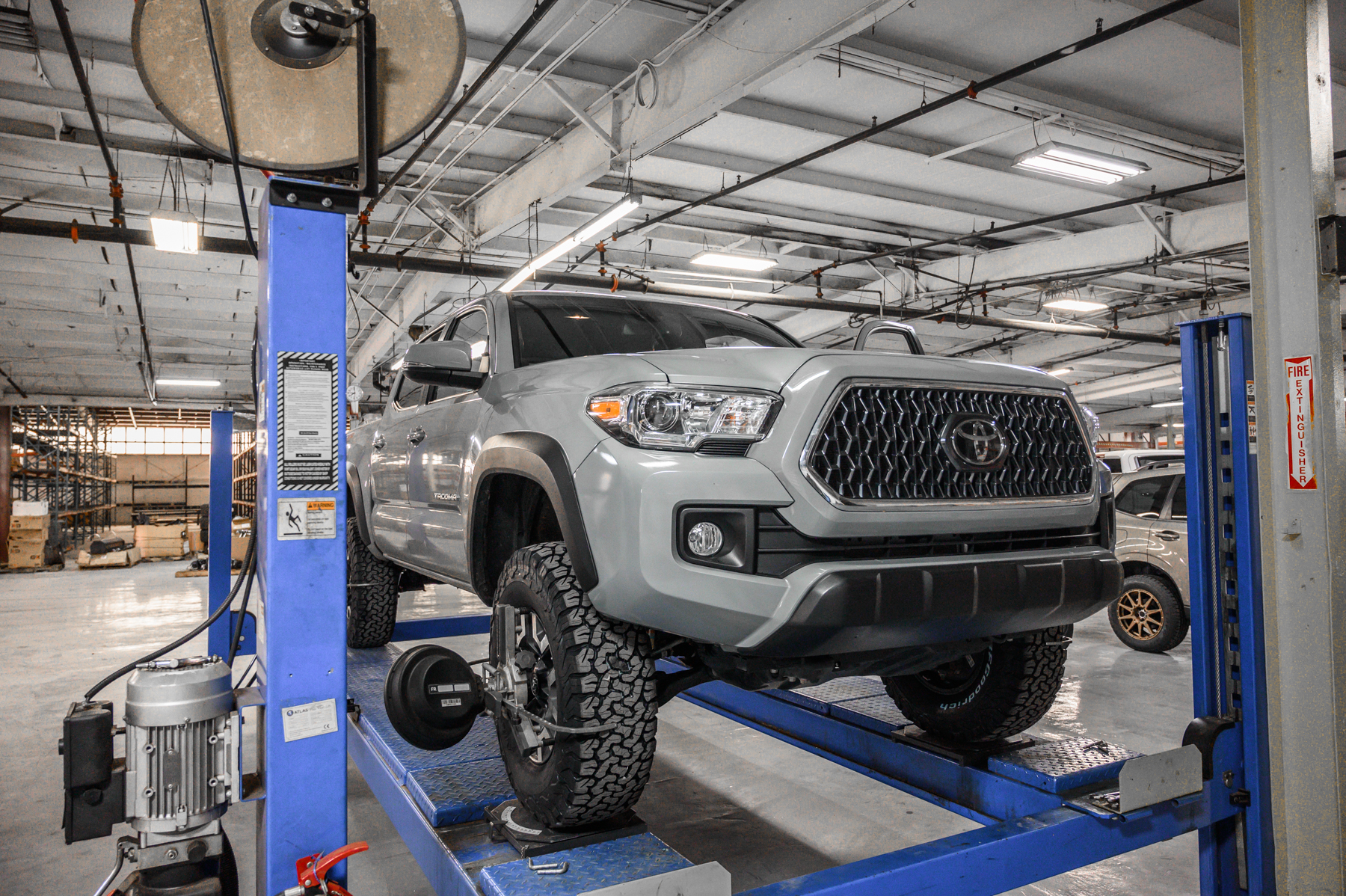 As a marketing and creative professional, much of my work is in the adventure, travel, and outdoor markets. As an outdoorsman, adventurer, and ambassador, much of my life has been off-road. Having transportation that gets me where I need to go and when I need to go in an effective way is crucial to me, and it being an eye-catcher visually matters to me as well. Toyota doesn't stand alone as being the best manufacturer of vehicles optimized for the off-road lifestyle, but their TRD series sure is hard to beat. My 2019 Cement Toyota Tacoma TRD-Off Road that we purchased through Pepper's Toyota in Paris, Tennessee has exceeded many expectations, not only for it's performance, but the overall experience. When I am not adventuring off-road, I am traveling on the road a lot. I am constantly carrying gear with me whether that be camera gear, hunting gear, fishing gear, camping gear, and the list goes on. Through my own experience, I have grown much appreciation for the design and build of the Tacoma and how it has brought value to me.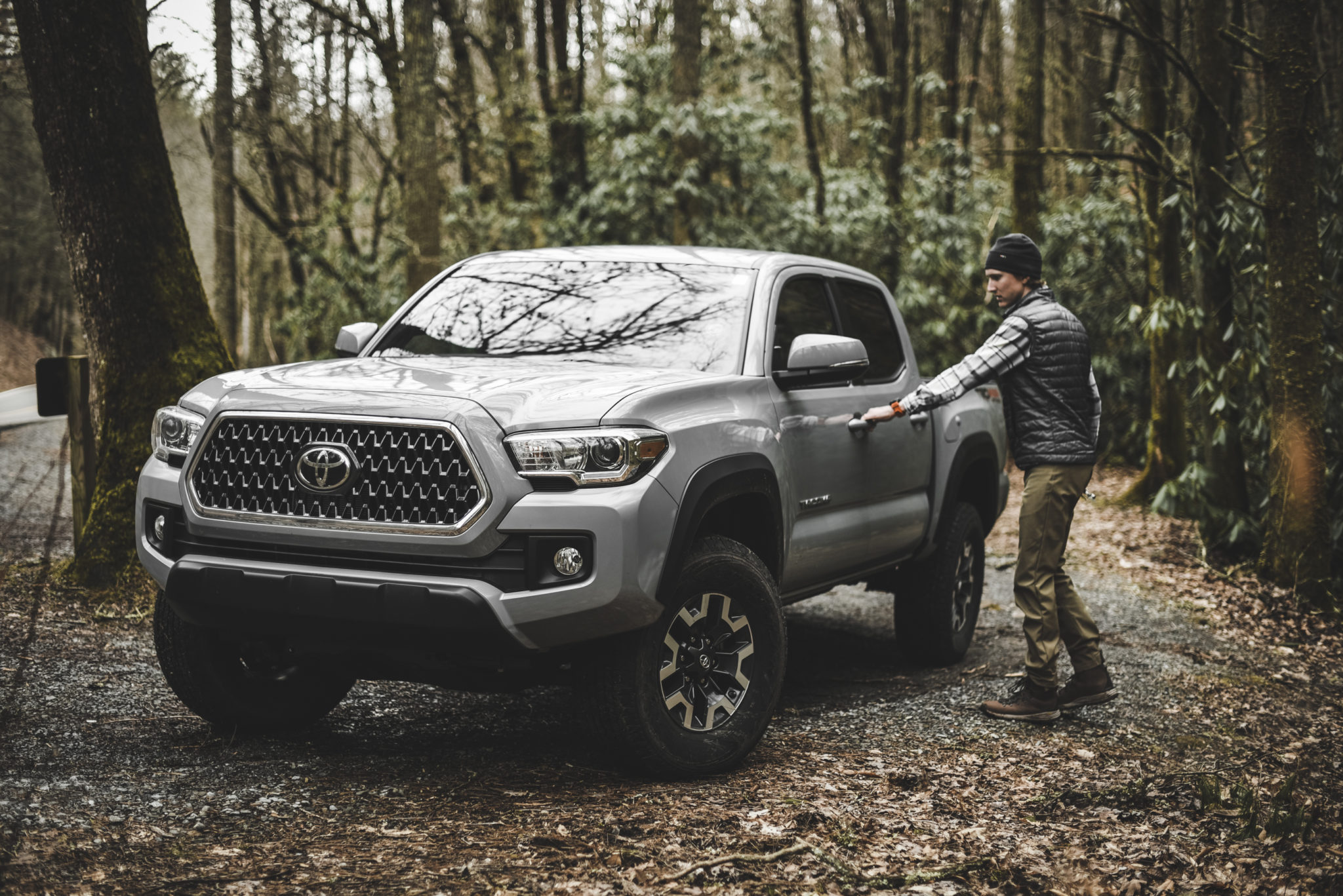 Overland Research and Development for Rough Country is a new endeavor for them, and the sky is the limit for what they can do with the power team they have. Their ambition is to create and build overloading performance modifications that are durable, reliable, look stellar, and most importantly, perform. Overlanding puts vehicles and gear to the test in the wild and in some of the harshest environments. Mud, dust, rocks, creeks, snow, sand, and the list goes on when talking about the conditions that are adventured to arrive at the destination.
The start to my Tacoma Overland Build has began with phase one being completed. The first performance upgrades on my rig are the Rough Country 3″ Supsension Lift Kit with N3 lifted struts. These nitrogen charged struts provide lift to your rig while maintaining a smoother factory like ride. These Performance N3 Struts offer improved tire contact with the road for increased stability and performance. Each strut includes a pre-loaded coil for lightning-fast installation without the need for complicated strut disassembly. Rough Country's Performance N3 Struts feature a massive bore and chrome-hardened piston rod with leak-proof piston seal for exceptional durability during off-road use. Each strut is specifically tuned for its intended application and includes a variable dampening system for outstanding handling and control on all road conditions.The RC suspension kit is an important performance mod, and a design that will perform. Rough Country R&D is in the works of continuing performance parts to accommodate this suspension kit and strut enhancement.
We went with the BFGoodrich All Terrain T/A KO2 265/75R16 for now until wheel changes are made in the future. Many people can relate to the brand slogan "Built On BFG" because countless off-roading vehicles are riding on these tires every day. Dependable and aggressive all-terrain tires that still maintain great tread as the miles rack up. Not only do they perform well, but with their upgraded side wall design, look great.
The start to this overland Tacoma build with Rough Country has been exciting, and the best is yet to come. There are a lot of epic performance upgrades that the R&D team will be installing on this truck and releasing for consumers to capitalize on. To see Rough Country's full line product line, go to https://www.roughcountry.com to check out how you can upgrade your rig with performance. Also, be sure to follow them on instagram: @roughcountry to see the epic content they kick out.
Keep your eyes peeled on my website for most blog posts, be sure to follow me on my social media platforms: Facebook , Twitter , and Instagram .
Thanks so much for reading, and for any questions, don't hesitate to reach out by tapping here.
Every day is a great day to maximize potential and capitalize on opportunity.
– Seth Dortch Creative