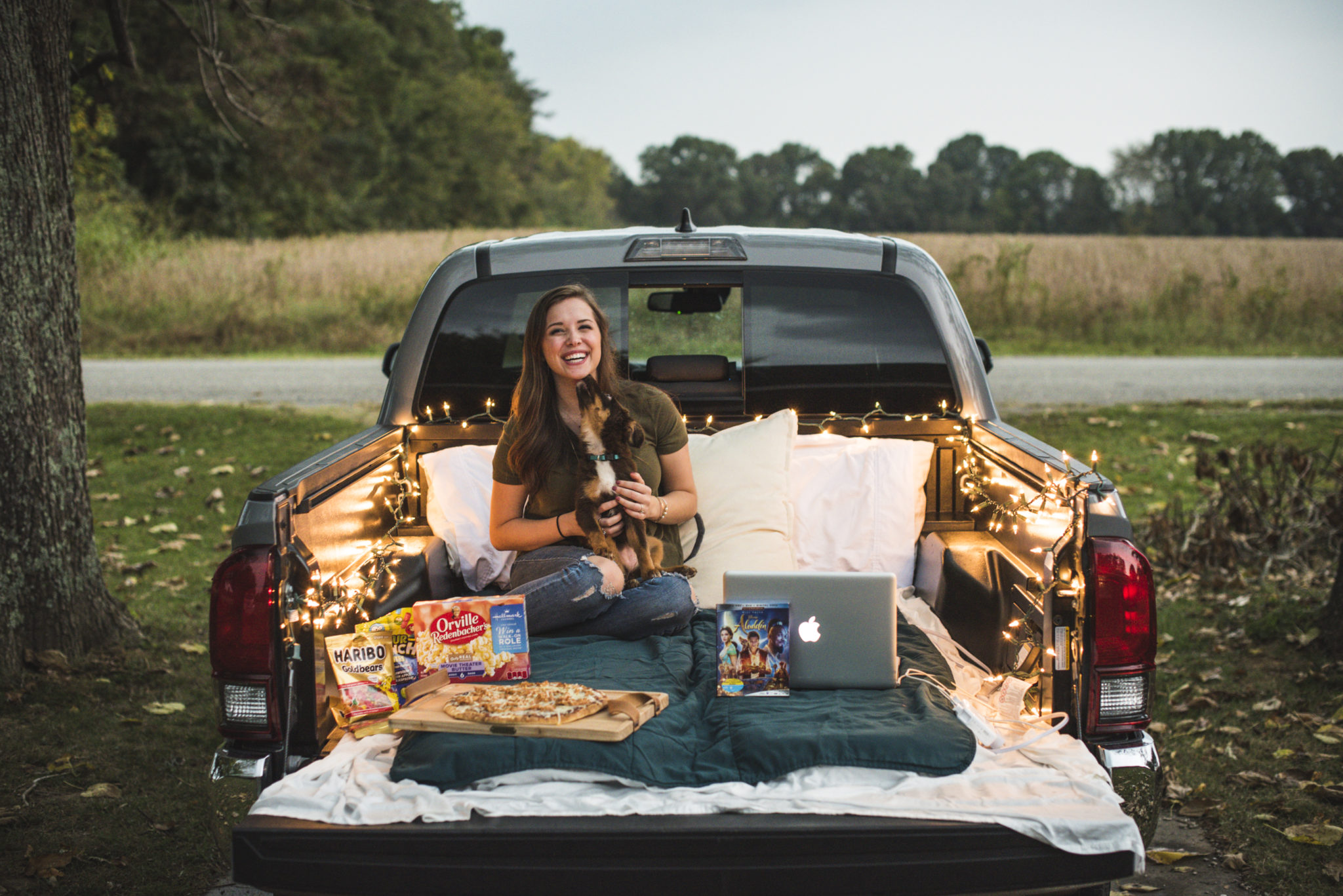 You don't always have to travel far to find adventure, and sometimes it can be found right in your front yard.
Heather turned 24 this past Sunday, and every year is another opportunity to maximize potential and explore. When I started thinking about how we would spend this day, the idea of how to spend our evening had been something we have both talked about doing for a while.
A truck bed movie night is something we have seen photographs of, but we wanted to initiate it and do it for ourselves so that is exactly what I planned to do without her knowing what the plan was until the day of.
We went to Walmart to get these things: ingredients for homemade bbq chicken pizzas, candy, popcorn, and the new Aladdin. Once we got home, Heather started on getting the pizzas prepared, and I started on getting the Tacoma truck bed fixed up.
Very important information is that it had been raining all day, and the weather forecast called for high percentage of rain for the rest of the evening – we were going to risk it.
We got everything set up, and the vibes were good. The rain had been holding off for a good part of the afternoon with the sun shining, but we knew at some point it would change. We just didn't know when.
As I pulled the truck from under our carport, the wind started to pick up a good bit and you could hear the thunder approaching. We had to act quick to at least get some photos because what we saw coming was not good in regards to watching a movie in a truck bed. Heather and Honey, our Mini Australian Shepherd, jumped in the truck bed to get in place for photos.
Right as I started to take photos, it began to sprinkle which kicked me into high gear to get shots of the overall set up and then detailed shots. Right as I completed them, it got real.
We backed the truck up, rain started falling, and the wind started blowing it into the truck bed. Quickly grabbing all the goods, we ran inside and in the moment, with much frustration. Once we finally got chilled out, we just started to laugh because so many moments of our marriage has resulted in crazy memories being made just like this one.
A reminder to the both of us that no matter how epic a photo looks, there is always more to the story, and even though things don't always go as planned, circumstances do not define our ability to embrace the moment.
When you look at the life of Jesus, his character always defined his circumstances. We want to be more like that through the wild ride that life is as we seek for our character to become more like his through the Holy Spirit.
– Seth & Heather ( The Daily Dortches )